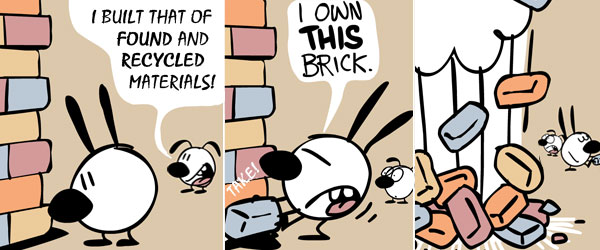 Imagine you buy a car from someone and the owner of the car refuses to transfer it on your name. Would you be comfortable with that? Of course not! You will want complete ownership of the vehicle since you are the one paying for it.
Now picture the same scenario between you (the designer) and your client. The client pays you hundreds of dollars to create a unique and professional logo that they can use to brand their business. Should he be concerned of the rightful ownership of the logo? Of course not! As long as he is paying you your hard earned fee, there is no reason why he shouldn't be getting legal ownership to the logo, right? No wonder, the love-hate relationship between designers and clients has been running rampant since time immemorial!
Why is Logo Ownership Important?
Before we move any further on who gets the ownership of a logo, let us first discuss its importance. Whether your design clients are finicky or intellectual, in the end ownership bears the following significance:
Freedom To Use It:
First and foremost, clients should have the freedom to use the logo they paid for. Of course, logo design is crucial for a brand's marketing. That is why a client needs to have complete ownership of the logo so that they can use it whenever and wherever they desire without fear of copyright violation.
Get Copyrights:
With proper ownership, the client can actually get his brand identity trademarked from their local registry dealing in Intellectual Property Rights. That way, the client will make sure that his business identity will not be infringed by anyone else.
Avoid Confrontation:
If the matter of logo ownership is not clear from start, there are chances that the client and designer will engage in untoward confrontation over it. This is something that no client would want, especially after paying for something.
Why designers don't give Ownership?
Recently, I also came across an interesting article on logo design ownership issue by Graham Smith where he rightly points out that
"logo designers are not making the practicalities of logo design ownership straightforward for their clients."
Which brings us to the all-important question…why designers avoid giving ownership to clients? Here are a few reasons I could think of why designers would do such a thing.
Too Possessive:
As a designer myself, I can understand how possessive we can get about our creations. Every logo we design, every concept we conceive is extremely valued to us. Mastering the art of crafting a memorable logo doesn't come easy and our work becomes all too precious for us. Maybe some designers become overly possessive about their designs and opt not to part ways with their design by not transferring ownership to the client.
Reuse it in Future:
Some designers like to take inspiration from their own past projects. Maybe this is why a few designers,who don't know the thin line between theft and inspiration,circumvent the topic of logo ownership with clients so that they might be able to reuse it in future. However, there is simply no justification for a designer to reuse previous logo designs in future projects. One can only go as far as use the client's logo for display purposes in their portfolio.
Hold for Ransom:
Believe it or not, some designers (mostly amateur) would evade telling the client about logo ownership in order to keep the 'upper hand'. As unethical as it sounds, it so happens that a few scrupulous designers would not clarify the ownership details in the proposal so that they can demand royalty when it is being used at various marketing platforms. What a shame!
Who Owns the Logo – Designer or Client?
Since design is crucial for business and brand, I believe that the logo design should be the property of the client once it has been passed on to him by the designer and the monetary transactions have been settled.
Moreover, regardless of who actually owns the logo design, it is the sole and moral responsibility of a designer to make the subject of ownership/copyright extremely clear to the client. Whatever terms and conditions you want be it just the license to use the logo or complete ownership, make sure to be crystal clear with your clients right from the word go. There is no point in dilly dallying on the subject and concealing the facts. Not only will it create confusion, it will also leave you looking like an unprofessional and dishonest person.
We have requested some top-notch designers, such as Juri Zaech, Jacob Cass, David Airey, and Nicole Martinez, for their opinion on the matter and we will be updating the post once we hear back from them. Meanwhile, do comment and let us know what your take on the subject is. Do you believe that clients should get sole ownership of the logo design? Or should designers keep the copyrights to themselves? Comments please!
Update:
We are hearing back from logo designers and small business owners. Below are some of the replies.
Nicole Martinez reply
.
.
https://www.designmantic.com/blog/who-owns-the-logo/

(

0

لایک)